After the success of her dress imagined with Lorafolk last year, Monoprix collaborates this year with Louise Misha to seduce the future brides to the small budgets.
Last season, prospective brides discovered with joy that immaculate dresses did not necessarily rhyme with disproportionate bank loan. The ready-to-wear brands realized that there was a real niche to occupy and that the buddies on a budget or who did not want to invest an extravagant amount in a model for a day were numerous.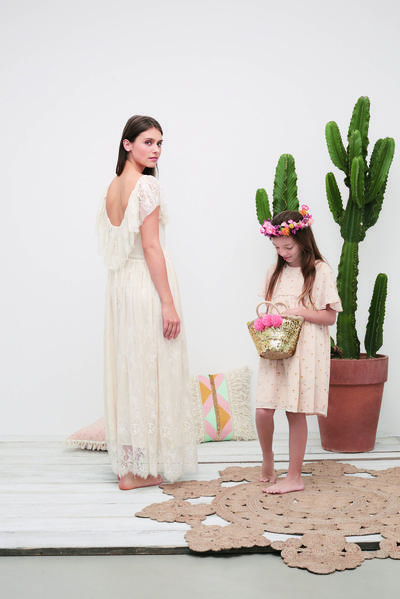 Last year, Monoprix had raised the challenge of proposing a dress made with a house specializing in the theme, Lorafolk, all within 300 euros. She reiterates the offer by collaborating this time with the brand Louise Misha. Behind this pretty name is hidden two friends, Aurélie Remetter and Marie Pidancet, to the romantic world vintage.
The 2017 wedding dress of the sign will not be white but unbleached and associates silk and lace to seduce all those who want a bohemian style chic. Delicate, she put on a steering wheel and a nice neckline in the back. The whole for 260 €. But the collaboration does not stop there and it is a whole capsule collection that will be proposed from March 30 in the stores of the sign. On the program, pretty dresses for bridesmaids (which will also suit any other occasion), a kimono, a dungarees but also decoration. To animate her wedding or her interior, it will be difficult to resist the adorable boho cushions and the catcher-dreams created for the occasion.
Who says capsule collection, obviously says ephemeral line. So, for the brides who would have found in this model Monoprix the dress of their dream, only one advice, better not to drag.